I love interiors described as lifestyle,
not lifestyle as the dictionary describes it,
but that pampered, simple, boho (lite), luxury style,
often described as lifestyle...
where you imagine the residents eat nothing but fresh food, drink only organic alcohol (in no doubt moderation) and probably entertain yoga at dawn.
If you book a holiday apartment,
and it is described as a bit lifestyle,
you know you have hit the jackpot.
Anything lifestyle
is lovely,
it makes you feel great,
even if you eschew the yoga and moderation.
And though many, many things contribute to the lifestyle-ness of a place,
I think a few themes run through them all,
(and these are the ones which wont break the bank.)
Natural fabrics
Always cotton or linen and preferably slightly wrinkled or with an ability to waft.
A Buddha statue!
Regardless of religious beliefs, there always has to be a
Buddha statue
in either, black, stone, grey or white and the bigger the better.
I love a Buddha and have a giant grey Buddha head in my back
yarden
and a couple of these
Poundland
concrete beauties around my home trying to add a bit of a lifestyle air... on a budget.
Natural materials
No plastic allowed!
I booked an apartment in Majorca which was really badly advertised, it was only with a bit of hunting and Google mapping, I saw that the apartment was right above the pool and sea and in a great location.
They also hadn't updated any photographs and when we arrived the whole outside area had been upgraded, plastic sun loungers and umbrellas gone, replaced with wooden loungers with white cotton cushions and straw parasols, wooden walk ways all around the pool and a central fire pit installed.
It was gorgeous, just the removal of plastic had made it completely lifestyle.
And of course they had added a Buddha to a post.
It's the law.
A hint of boho-ness
,
but not too much, boho-lite.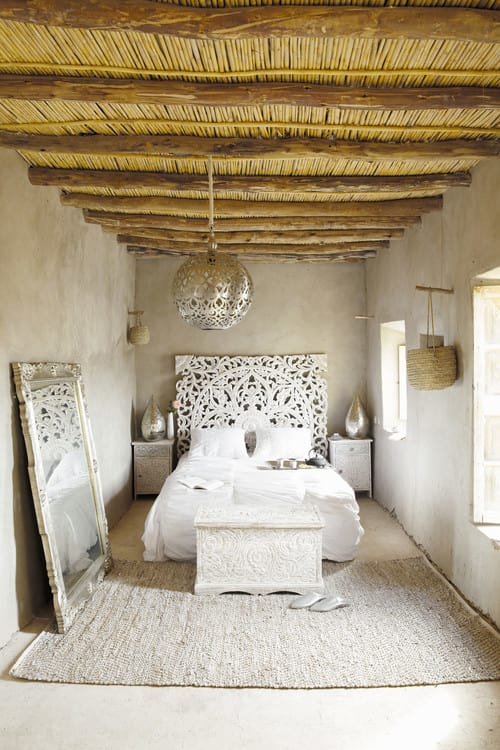 Such as this gorgeous carved mango wood headboard from
Maison Du Monde
for £648.50
And my soon to be, hint of boho
Indian wall hanging, which is cream and subtle, not the shades of orange it is photographing as!
12 Euro from one of the many Moorish shops in Granada.
I'm going to hang it on the wall you see as you come down a lower flight of stairs.
The walls are all cream and the side walls just have a few black framed prints so hoping it will look boho lite.
Natural fragrances.
Anywhere a bit lifestyle, always smells gorgeous, all natural perfumes, nothing too strong, no harsh chemicals, certainly no harsh cleaning products, sometimes a very subtle hint of joss stick or spices.
Some places have signature fragrances such as fig and cassis or the pretentious sounding shish tea leaf and citrus.
The most relaxing essential oil fragrances apparently are
Lavender (how? lovely outside on a plant, horrific on anything else)
Rose (usually lovely, can go, kids made rose water perfume in pop bottle)
Chamomile
Frankincense
Vanilla
I have found the cheapest place to buy essential oils is eBay
and scented candles
Homesense
especially if you can find them on their sale shelves, I LOVE those shelves.
The Yummy Life
Has been making her own home fragrances and it looks so easy (and cheap) how she does it.
I've only had a quick look but I'm going to give it a try.
A lantern or fire pit.
At least one lantern and/or fire pit and the bigger the better.
These above are from Pottery Barn.
And here's just one of mine
Yes, so badly photographed it's a contender for the #peoplesellingmirrors #
but my gorgeous Moroccan giant brass lantern kitchen ceiling lights, which would make a far better picture... need a clean... and it takes a while to clean them... I'll save them for a kitchen post.
Neutral colours
Always neutrals, no garish or bright colours, subtlety seems to be lifestyle interiors thing.
And I've noticed when looking for holiday rentals,
if they have kitted it all out in simple neutrals, even if it's all from Ikea,
they can almost double the rental price.
This one £2210 per week.
and round the corner, this one for £668.
Rentals from
Homeaway
(a website I can lose hours to).
My house may never end up totally 'lifestyle',
or probably no where near it,
but my mission (having come home from a holiday to a house that's been closed up for a week) at the moment is to make it at least smell lifestyle!
This blog is up for an Amara award!!!
So excited about that.